Summer is a challenging time of year for me — and for my body image. As you may remember, my eating disorder began with a bathing suit. Since then, I've continued to struggle with this time of year, and especially with all the weight loss rhetoric that tends to surround it.
So, consider this your friendly reminder: every body is a beach body! All you gotta do is slap a bathing suit on that bangin' bod of yours and head on down to the water, and bam. Instant beach body. Of course, self-love is never that simple, but I find that it helps to surround yourself with body positive media. I sincerely hope my blog can be that for you.
That being said, this blog post is all about bathing suits. Despite the fact that I struggle with wearing a bathing suit, no one should have to miss out on the joys of summertime due to their size or their body insecurities. Many of us gals with endometriosis struggle with endo belly, which can make us go from average tummy to six months pregnant in under 12 hours. I know that my stomach has long been a "problem area" (read: perfectly normal, beautiful area that's been demonized by the media) for me and my self-esteem, and much of that likely owes to my history of endometriosis.
I don't believe that you should have to change your body or wear clothes you don't like because they're deemed most "flattering" for your size or shape. But I do think there's something to be said for the right bathing suit. Bathing suits that conceal my bloated tummy help me feel more confident on the beach. It's not about looking good for the 'gram or conforming to some arbitrary standard of beauty; it's about what makes me feel good. In high-waisted swimsuits that help me hide my bloated tummy, I can stop worrying that everyone is staring at my endo belly and actually get to enjoy myself!
If you love your tummy, no matter your size, you should always feel comfortable and confident flaunting what you've got. But if you, like me, have been made to feel insecure about your stomach, you might feel more comfortable wearing something that can hide a little bloat. After all, there's nothing worse than wanting to order some cheesy fries at the pier, only to feel like a sausage roll inside your bathing suit an hour later.
That's why I picked these four swimsuits especially for bloated bellies like mine. If you struggle with endo belly, you'll love the practicality of these suits for concealing symptoms — and fall in love with these gorgeous styles.
$20, Bottoms Only
Aerie makes the cutest high-waisted bottoms — not to mention that their website is a study in body positivity. The company has committed to no Photoshop on their models and does an excellent job choosing an array of body types, races, and abilities that showcase what it actually means to be a woman in 2020.
$179, One-piece
Prepare to have your mind BLOWN: this "wrapsuit" one-piece style from sustainable swim brand BAIIA is reversible. I love a good one-piece on days when I'm feeling self-conscious or wake up already bloated. Instead of hyper-focusing on whether everyone is staring at my tummy, I can simply soak up the sand and surf — as I should be!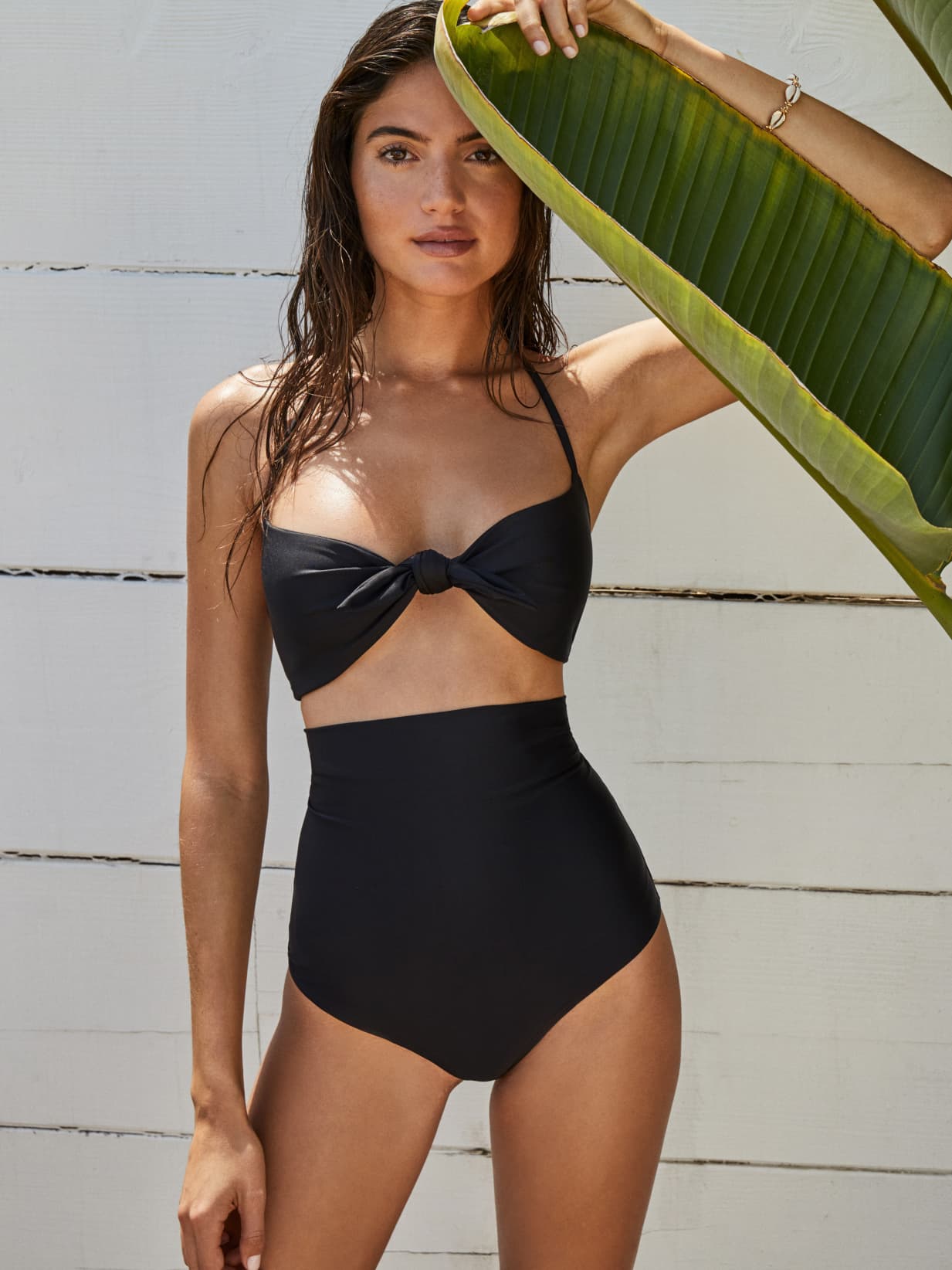 $68, Bottoms Only
When the standard high waist doesn't feel like enough, enter the Havana bottoms from Reformation: these super high-waisted bikini bottoms are roomy enough to grow with you throughout the day. No need to worry if your endo flares at the beach; you can feel confident knowing that this suit has got it all under control.
$70, Top and Bottoms
For a twist on the typical bikini, Keva J has got you covered. This asymmetrical swimsuit is a literal piece of art, playing with lines and cutouts for a style that's all its own. Keva J is a Black-owned brand, and shopping from our Black sisters is more important now than ever — so if you're not afraid of a few tanlines, I highly suggest you check it out.