Ever wished that you could still travel the world while stuck in quarantine? Having a pen pal is exactly like that! You can make a friend from a foreign country you've never visited and learn more about their language and culture, all while exchanging stationery, candy, and little trinkets from your homelands. What more could you possibly want?
When I was in elementary school, my school partnered with another school in China to write pen pal letters to kids our age. Some kids managed to stay in touch with their Chinese pen pals for a few months, but mine only wrote to me once. Ever since then, I have always wanted a penpal, but never knew how to find them.
As it turns out, pen pal letters are becoming a "thing" in the bullet journaling community! You may have noticed the growing popularity of pen pals if you watch journaling Youtubers like milkcloud or Rainbowholic TV. More and more, people in the bullet journaling community are connecting to exchange aesthetic snail mail with each other from all over the globe.
I joined my first pen pal site at the beginning of quarantine back in March and kind of forgot about it. I only picked it back up recently — and now, I've met my first pen pals from India and Hawaii. Since I've decided to share more of my creative endeavors on the blog, I thought it would be fun to teach you all how I got started with pen pals.
Let's get started 🙂
How to Find a Penpal Online
There are two major sites that people use to meet others in the penpal community: Global Penfriends and Penpal World. Both are safe and reputable, but here is my opinion on each.
Global Penfriends
Of the two sites, Global Penfriends is my preferred choice. I have used it longer, so I trust it more, but I also find that users are more active on Global Penfriends than they are on Penpal World.
Global Penfriends limits the number of contact credits to one every twelve hours, meaning you can only send two messages per day (and that's assuming you're awake 24 hours a day!). Otherwise, you have to pay for a premium subscription. (I don't know if others are having this problem, but the Paypal page to sign up for the premium subscription has yet to work for me so far.) Some profiles are also restricted to premium members only. I haven't figured out exactly how or why this works, but I'll occasionally get blocked from sending someone a message because I'm not a VIP.
The rest of the time, you're allowed to send something called a "smile." It's a little like "poking" someone on Facebook: it lets the person know that you're interested in talking to them, even though you're out of credits for the day. You can send as many smiles as you want. I highly recommend taking advantage of this feature because if someone wants to meet you, they may send you a message first!
You can also purchase a pack of what's called "Snail Mail Credits" for $18. You get 10 credits, which basically equals 10 addresses. Initially, I purchased Snail Mail Credits back in March and got about eight addresses. However, I never wrote to those people. I don't know about you, but I find it a little awkward to start a penpal conversation without talking to someone online first. Instead, I waited until I messaged someone a few times and felt comfortable exchanging addresses.
Penpal World
I am not the biggest fan of Penpal World for a couple of reasons. Firstly, the structure of the website is not as sophisticated as Global Penfriends. Global Penfriends lets you filter your search results by country, age, gender, and region. You can't filter your search results by country or region on Penpal World; you can only block certain countries from contacting you (for example, if you don't want to meet people from your home country).
Secondly, the filters for who you do and don't want to contact you work better on Penpal World. For safety reasons, I decided to block males from contacting me and only get in touch with other females. I'm in a relationship and didn't want creepy guys sending me messages! But because Penpal World lets you leave comments on other people's profiles, guys have still been trying to contact me. They haven't said anything weird or dangerous, but I have found it annoying that I am not getting contacted by the people I want to contact me. (In general, I've also found that there are fewer guys on Global Penfriends, period.)
Something that makes Penpal World better, however, is that you get three contact credits per day, to be used at any time of day (which means you don't end up losing one, as with Global Penfriends, if you're not awake!). Another thing that is nice about Penpal World is that a lot of people who want to contact you will actually give you their email address instead of going through the website. (If you're worried about sharing emails, you could always make a second email account for penpals only.) This eliminates the need for the whole credits thing altogether. So, you are much less likely to need a VIP subscription to Penpal World than Global Penfriends!
What to Write in Your First Letter
So, you've landed yourself a pen pal. You have a lot in common, you have their address, and you're ready to start writing! But, now what? Knowing where to start can be one of the hardest parts of writing an old-fashioned snail mail letter. Obviously, you'll want to write "Dear [Name]," but what should come after that?
I'm not very good at starting a conversation in-person, but as a professional writer, I find it easier to express myself on paper. So, as a pro, here's my advice: the reality is that there's no "right way" to start a pen pal letter, or any piece of writing really. The best thing to do is sometimes just to get started and see where it goes.
As a pen pal, most people will not hold it against you if the only thing you have to write about is what you ate for breakfast. In fact, if you're from a different culture than me, those details can be really interesting! And even if you're from the same country, I'm still nosy 😉 The mundane parts of life tell you a lot about a person and help you get to know them — it's why authors spend so much time describing seemingly useless details about characters in a book. It makes you like them!
Still, there is one trick to writing a good pen pal letter: ask questions! As much as I want to learn about you, I also want to know that you're interested in learning about me, too. We all love to be asked about ourselves, whether we will admit it or not. The questions we're asked aren't always the easiest to answer (I mean, picking a favorite book?! Who does that?!) but they DO help you get to know a person better. When learning more about a new friend from afar, it's even more important to pick up on those little details.
Some people even include a separate list of questions in their letters for their pen pal to answer. The pen pal sends the answers back, along with a new list of questions — and so it continues! This is a great way to make a letter more interesting and get to know a person better. Plus, it gives you yet another piece of paper to decorate 🙂
So, what kinds of questions should you ask your pen pal? Those get-to-know-you icebreaker questions from college will finally come in handy! But, if you're stuck, here are some ideas:
What is your favorite color/food/book/movie/animal/etc.?
If your house was on fire and you could only save one thing, what would you save?
If you could travel anywhere in the world, where would you go?
What is your happiest childhood memory?
What holidays do you celebrate in your culture? Which traditions are your favorite?
What are you looking forward to?
If your pen pal speaks a language with a different alphabet: how would you write my name in your language?
Happy Mail Essentials
You don't need to be a DIY expert to create an aesthetically pleasing pen pal letter — you just need the right supplies. Here are some stationery essentials to stock up on for your new pen pal obsession…because once you try it once, you're going to be obsessed!
Letter Paper
If you're going to be writing letters regularly, you're going to want high-quality letter-writing paper. Personally, I use blank 11×8.5 in. printer paper for my letters that I've folded and cut in half. I like this option because it allows me to customize it with as much washi tape, stickers, and stamps as I want! However, if you're looking for letter paper that's already decorative, Jet Pens is a great place to shop. The Midori Volume Washi Letter Pad ($10) is designed to look like a bamboo mat that's been washed over with watercolor, giving it a pretty finish that's still basic enough to be decorated.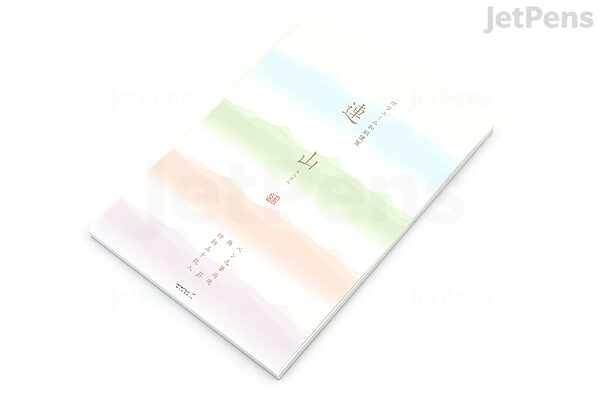 Envelopes
Colorful envelopes are a staple in any pen pal's stationery collection. You want them to be aesthetically pleasing, but not too busy that you can't adorn them with calligraphy, washi tape, stickers, and everything in-between. For that reason, I like shopping for envelopes at Paper Source's paper bar. Their envelopes come in a variety of colors and sizes to spruce up your snail mail. One of my favorite choices is their A2 Mint Envelopes (pack of 10 for $4).
Stamps
Obviously, you'll need USPS stamps to send happy mail anywhere in the world — but you may also want some rubber stamps to help decorate your letters and envelopes! One of my mom's hobbies happens to be rubber stamp-carving (true story), so I rarely spend money on my stamp collection. But, if you're not lucky enough to be hooked-up by Mom, traditional craft stores like Michael's and Jo-Ann are great places to find rubber stamps for decorating letter paper and envelopes — like this Happy Mail stamp ($4).
Mildliners
Zebra Mildliners are a must-have for anyone interested in journaling or pen pals. If you keep a bullet journal, chances are that you already have a pile of these laying around somewhere that can be repurposed. But if not, it's time to get your hands on a pack of Mildliners, which are perfect for adding color to your letters and envelopes, without bleeding through or compromising readability. I got mine at Target once upon a time ago, but the same pack is available for cheaper at Wal-mart right now ($14).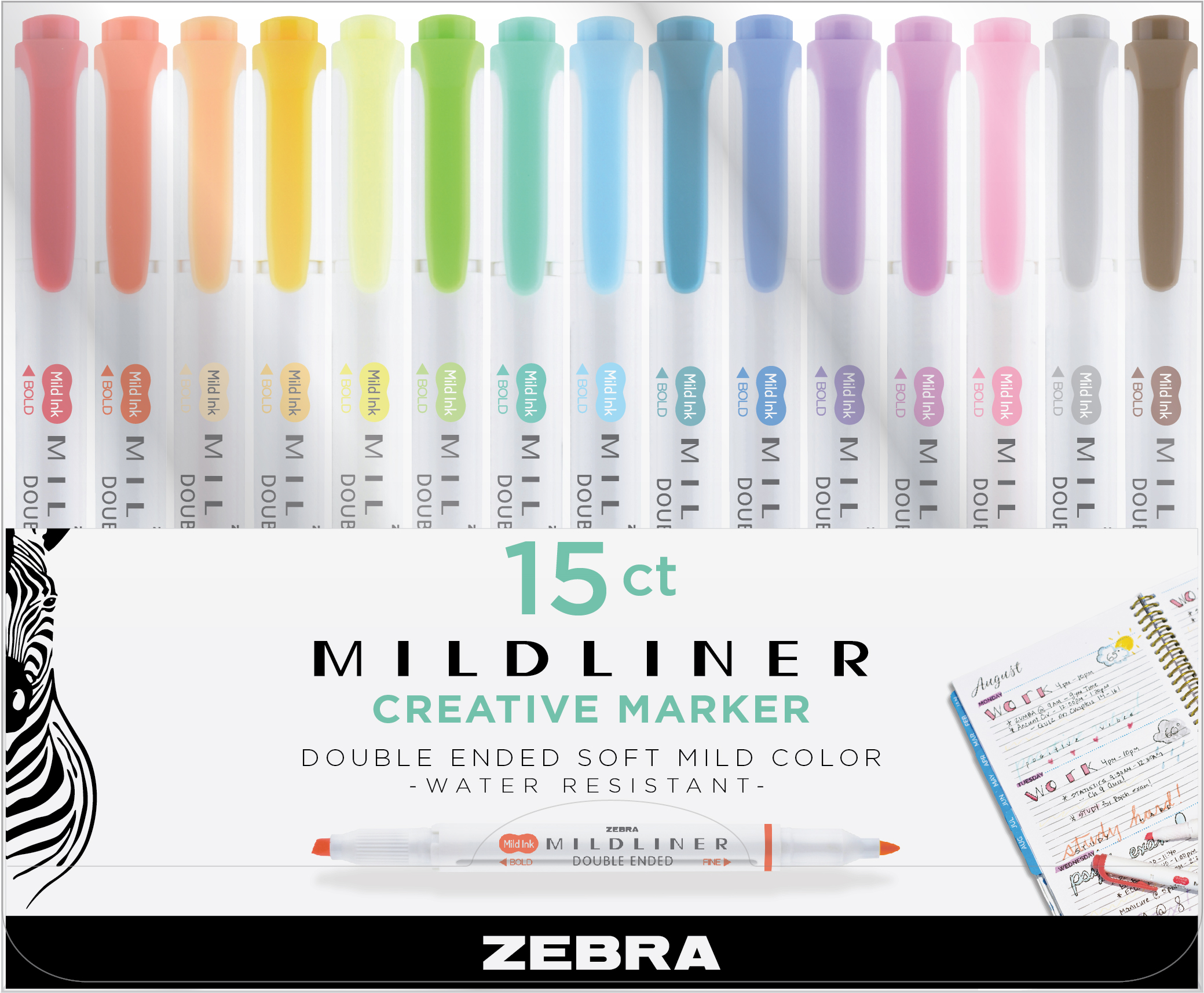 Stickers
Of course, you don't want to forget the stickers when you are shopping for pen pal essentials! Whether you don't like to draw your own designs or simply love collecting cute stationery like I do, stickers are a must-have for all of your kawaii crafting activities. Etsy is, by far, my favorite place to find adorable stickers — and support small artists while doing it! Search "pen pal stickers" and you'll see just how much variety is available. However, this time I'm choosing the Happy Sticker Sheet from Betterday Boutique ($3).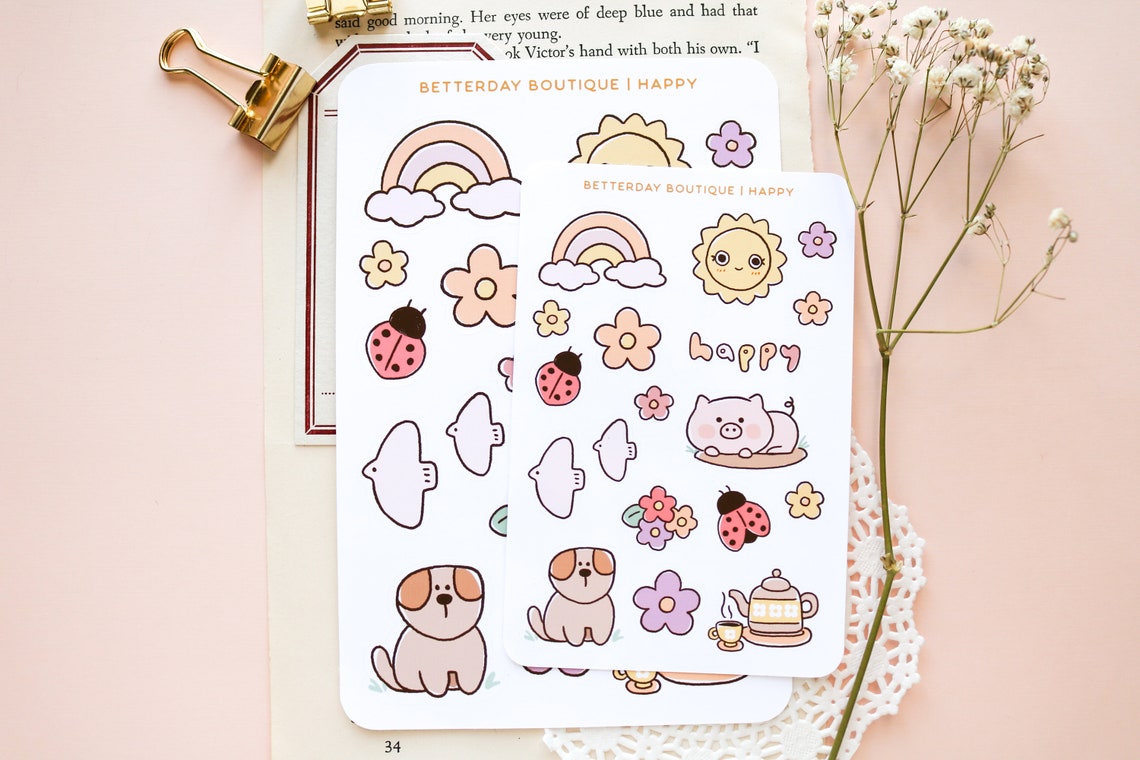 Washi Tape
Last but not least, pen pal letters are the perfect excuse to add to your washi tape collection. You can use a strip of decorative washi for everything, from sealing your envelope in style to adorning the edges of your pen pal letter. There are so many wonderful places to buy washi on the web, but Scrapbook.com carries this adorable Magical Forest themed pack, which comes with eight types of washi at an affordable price ($10). You really can't get better than that!
Extras to Include with Your Letter
Everyone loves surprise presents — which is why I always like to include extras from my stationery collection in my pen pal letters. But extras don't need to be stationery necessarily: they could also be candy, tea, or anything else you can get in your home country that they may not be able to get in theirs.
Anything you include in your letter as an extra should fit in the envelope without the need for extra postage. Just remember that extras are exactly that…. extra! Not everyone has the means to include extras in their letters, so keep your expectations low when it comes to receiving — and if you can, be generous when it comes to giving them. Here are some ideas for extras to get you started:
Sticker flakes
Washi samples
Individual memo sheets
Fun-sized candy (don't forget to check for allergies first!)
Tea bags
Chewing gum
Friendship bracelets
Bookmarks
Keychains
Hair accessories
Low-value coins, if you use different currency from your pen pal
Stamps, if your pal collects them
Paper confetti
YouTubers to Watch for Inspiration
So, are you ready to get started writing your first pen pal letter yet? If you're not sure where to begin, I find that a helpful place to start is to pop a Youtube video on my television, pile my stationery in front of me, and see where the inspiration takes me! Or, if you're still skeptcical, you can watch a video to learn more about what having a pen pal is really like. Below, I'll link to some of my favorite Pen Pal with Me videos on Youtube so you can check out what all the fuss is about before you get started with pen pals for yourself:
There are so many pel pal videos on Youtube to choose from — just search "pen pal with me" and you'll see what I mean! — but I hope you enjoyed getting to know some of my favorites 🙂